Three or four sides packing machine with auger filler and screw
source: baopack.auto;
Time: 2020-07-29
Three or four sides packing machine is usually equipped with an auger filler and a screw to wrap the powder.The material is transported to the auger filler and then the machine is used for packaging.
Our company recommend the machine is called VS36.The machine's maximum film width is 360mm.And the maximum speed is 40 bags per minute.This machine can be used for most packing film materials.like BOPP/VMCPP,PET/PE,BOPP/CPP, PET/AL/PE etc.Bag lenth and bag width can be adjusted according to their own needs.The packing speed can be adjusted by ourselves.
The machine's technical advantage:
1. The horizontal sealing using the new anti-folding device, easy to adjust, stable performance.
2. Advanced automatic correction system, tracking and positioning accurately.
3. The improved bag former beautifully designed and the best manufacturing process applied.
4. The film pulling frame is simply designed, easy to adjust the eye mark and install the film.
As shown in figure.The two machines share a single screw.The feeding device of the machine is on one side of the machine.Two machines form a symmetry, two machines work together, greatly improve the work efficiency.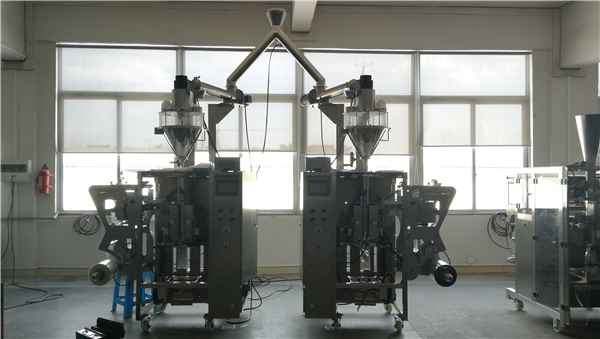 This is the auger filler on the machine.It can be used to measure materials.As shown in figure.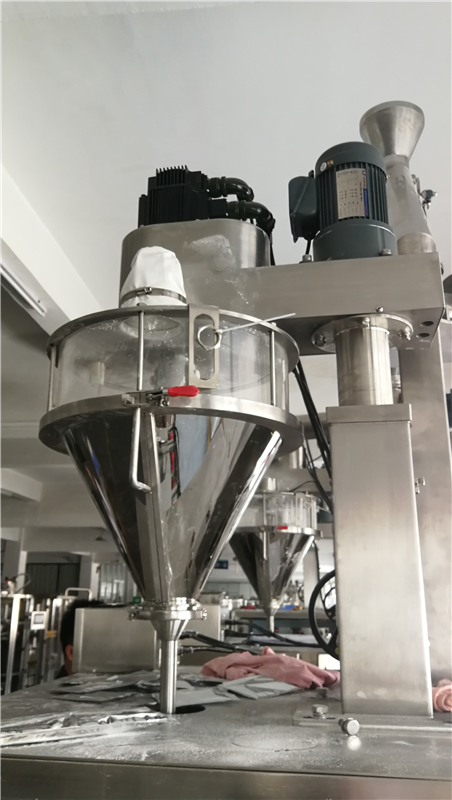 This is the bags made by a machine.As shown in figure.It can be made even package can be made single package.