Do You Know The Function And Application Of Powder Packaging Machine?
source: baopackauto;
Time: 2019-01-04
Powder packaging machine is the general name of packaging equipment for powder products. It can also be called powder packaging machine. According to different functions, it can also be called automatic powder packaging machine, food powder packaging machine, washing powder packing machine, powder packaging machine, multi-functional powder packaging machine and so on. Powder packaging machine is widely used in the market. There are many kinds of powder products that can be packed, including industrial, food, agricultural by-products and other industries, including milk powder, starch, agricultural, veterinary, premix, additives, condiments, laundry powder, feed, enzymes and other products. Such as coffee powder packing machine, milk powder packing machine, washing powder packing machine,detergent powder packing machine,
As long as it is powder goods, as long as you want to sell it, you can not do without packaging, you can not do without powder packaging machine.
In the current market, powder packaging machine has been widely used in the market. Powder packaging machine as a necessary mechanical equipment in the packaging market, so that enterprises can be rescued from the complex production packaging, product packaging is no longer manual weighing packaging, but to achieve full automation, not only improve production efficiency, but also save time and cost, drive among market enterprises can go forward. At the front of the exhibition, it can be said that the existence of automatic powder packaging machine really promotes the development of packaging market.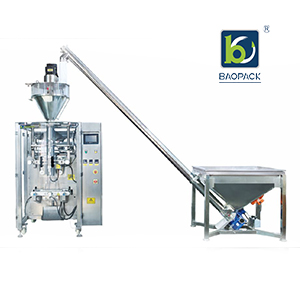 Foshan Baopack auto Packaging machine Co., Ltd. has been established for nearly 20 years. The core team technician members have more than 10 years of production technology experience. They can not only make standard automatic packaging machines, but also provide personalized non-standard product design and production. They cooperate with many well-known enterprises, including some well-known brands, such as Be&Chery, three squirrels, Zhonglian, Dali,PanPan, etc. Strong strength, worthy of trust.
With the continuous innovation of technology, Foshan Baopack auto Packaging has also raised the requirements for powder packaging machine. Fully automatic powder packing machine 304 stainless steel high precision structure, rust-proof and durable. PLC control system, touch screen and bag length setting are convenient and accurate. High sensitivity photoelectric eye color mark tracking, digital input sealing position, make sealing position more accurate. Temperature independent OMRON temperature controller control, better adapt to all kinds of packaging materials, packaging beautiful and non-destructive. From filling, bagging, printing date, inflatable (exhaust) one-time completion. The transmission system is simple, reliable and easy to maintain. All controls are realized by human touch screen with software and LCD interface, which facilitates functional adjustment and technical upgrading, and keeps up with the requirements of packaging technology market at home and abroad.
Foshan baopack packaging equipment has a variety of styles. In addition to powder packaging machine, there are granule packaging machine, food packaging machine, liquid packaging machine, paste packaging machine, automatic high-speed packaging machine, tea packaging machine, triangle packaging machine, screw packaging machine, vertical packaging machine, etc. There is always a packaging equipment for you.